It has been four months since Ed Sheeran released his last music video, so when he took to Instagram to announce the release of the video for his ÷ (pronounced "divide") track "Happier," the Sheerios were beyond excited.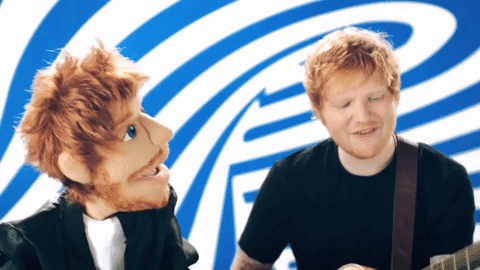 Featuring the Ed Sheeran puppet that last seen in 2014 in the video for "Sing" (from Sheeran's x (pronounced "multiply") album), "Happier" explores the aftermath of a relationship that has ended when one person (or puppet) moves on. Interestingly, Sheeran isn't the only non-human actor in this video. In fact, there is only a handful of actual people in this entire music video. Portrayed by a balloon person and a puppet, the love interest and her new bae aren't people either.
Ed is currently on his world tour for the ÷ album and gearing up for his wedding to Cherry Seaborn, so maybe his marionette friend is filling in on the music video duties. (And some social media duties as well. Earlier in the week, the puppet appeared on Instagram to announce that the video was on the way.)
Who knew you could be so emotionally moved by puppets and balloon people? Don't let this work of art float by! We might not see puppet Sheeran for another four years!