Last of Her Name, Jessica Khoury
"Sixteen years ago, rebellion swept the galaxy known as the Belt of Jewels. Every member of the royal family was murdered–down to their youngest child, Princess Anya–and the Union government rose in its place. But Stacia doesn't think much about politics. She spends her days half-wild, rambling her father's vineyard with her closest friends, Clio and Pol.
That all changes the day a Union ship appears in town, carrying the leader of the Belt himself, the Direktor Eminent. The Direktor claims that Princess Anya is alive, and that Stacia's sleepy village is a den of empire loyalists, intent on hiding her. When Stacia is identified as the lost princess, her provincial home explodes into a nightmare.
Pol smuggles her away to a hidden escape ship in the chaos, leaving Clio in the hands of the Union. With everything she knows threading away into stars, Stacia sets her heart on a single mission. She will find and rescue Clio, even with the whole galaxy on her trail." – Goodreads
What would you do to help your best friend? Follow Stacia on her adventure to do anything it takes to save hers.
The Cerulean, Amy Ewing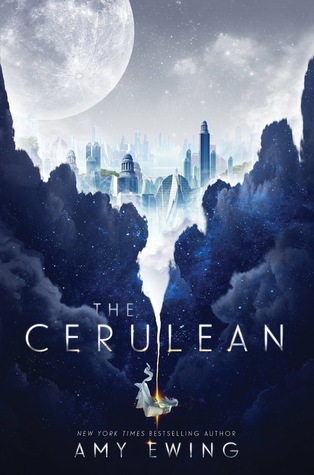 "Sera has always felt as if she didn't belong among her people, the Cerulean. She is curious about everything and can't stop questioning her three mothers, her best friend, Leela, and even the High Priestess. Sera has longed for the day when the tether that connects her City Above the Sky to the earthly world below finally severs and sends the Cerulean to a new planet.
But when Sera is chosen as the sacrifice to break the tether, she doesn't know what to feel. To save her City, Sera must throw herself from its edge and end her own life. But something goes wrong and she survives the fall, landing in a place called Kaolin. She has heard tales about the humans there, and soon learns that the dangers her mothers warned her of are real. If Sera has any hope to return to her City, she'll have to find the magic within herself to survive." – Goodreads
Sometimes your wanderlust gets the best of you.
The Past and Other Things That Should Stay Buried, Shun David Hutchinson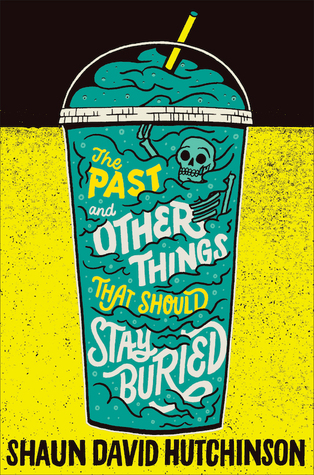 "Dino doesn't mind spending time with the dead. His parents own a funeral home, and death is literally the family business. He's just not used to them talking back. Until Dino's ex-best friend July dies suddenly—and then comes back to life. Except not exactly. Somehow July is not quite alive, and not quite dead.
As Dino and July attempt to figure out what's happening, they must also confront why and how their friendship ended so badly, and what they have left to understand about themselves, each other, and all those grand mysteries of life." – Goodreads
This is your perfect supernatural spring adventure!
Tell Me Everything, Sarah Enni
"Ivy is the shy artist type and keeps a low profile—so low that she's practically invisible to everyone at Belfry High School except for her best friend, Harold. As sophomore year begins, Harold takes up a hundred activities, leaving Ivy on her own. Luckily she's found a distraction: the new anonymous art-sharing app, VEIL.
Soon Ivy realizes that one of her classmates is the VEIL user who needs new paintbrushes … and another is the one visiting the hospital every week … and another is the one dealing with their parents' messy divorce. While she's too scared to put her own creations on the app, Ivy thinks of an even better way to contribute—by making gifts for the artists she's discovered. The acts of kindness give her such a rush that, when Ivy suspects Harold is keeping a secret, she decides to go all in. Forget gifts—Ivy wants to throw Harold a major party.
But when all those good intentions thrust her into the spotlight, Ivy's carefully curated world is thrown into chaos. Now she has to find the courage to come out of the shadows—about her art, her secrets, and her mistakes—or risk losing everything and everyone she loves the most." – Goodreads
Sometimes staying anonymous, even for a good thing, can have its consequences.
Stranger Things: Suspicious Minds, Gwenda Bond
"A mysterious lab. A sinister scientist. A secret history. If you think you know the truth behind Eleven's mother, prepare to have your mind turned Upside Down in this thrilling prequel to the hit show Stranger Things.
It's the summer of 1969, and the shock of conflict reverberates through the youth of America, both at home and abroad. As a student at a quiet college campus in the heartland of Indiana, Terry Ives couldn't be further from the front lines of Vietnam or the incendiary protests in Washington.
But the world is changing, and Terry isn't content to watch from the sidelines. When word gets around about an important government experiment in the small town of Hawkins, she signs on as a test subject for the project, codenamed MKUltra. Unmarked vans, a remote lab deep in the woods, mind-altering substances administered by tightlipped researchers . . . and a mystery the young and restless Terry is determined to uncover.
But behind the walls of Hawkins National Laboratory—and the piercing gaze of its director, Dr. Martin Brenner—lurks a conspiracy greater than she could have ever imagined. To face it, she'll need the help of her fellow test subjects, including one so mysterious the world doesn't know she exists—a young girl with unexplainable, superhuman powers and a number instead of a name: 008.
Amid the rising tensions of the new decade, Terry Ives and Martin Brenner have begun a different kind of war—one where the human mind is the battlefield." – Goodreads
If you voted for Millie Bobbie Brown for the 2019 Kids' Choice Awards, you're going to want to check out this first book in the Stranger Things prequel book series.