The Storm Runner, J.C. Cervantes
"Zane has always enjoyed exploring the dormant volcano near his home in New Mexico, even though hiking it is challenging. He'd much rather hang out there with his dog, Rosie, than go to middle school, where kids call him Sir Limps a Lot, McGimpster, or Uno — for his one good leg. What Zane doesn't know is that the volcano is a gateway to another world and he is at the center of a powerful prophecy.
A new girl at school, Brooks, informs him that he's destined to release an evil god from the ancient Maya relic he is imprisoned in — unless she can find and remove it first. Together they return to the volcano, where all kinds of crazy happens. Brooks turns into a hawk, a demon attacks them in a cave, and Rosie gives her all while trying to protect Zane. When Zane decides to save his dog no matter the cost, he is thrust into an adventure full of surprising discoveries, dangerous secrets, and an all-out war between the gods, one of whom happens to be his father. To survive, Zane will have to become the Storm Runner. But how can he run when he can't even walk well without a cane?" – Goodreads
Exploring a dormant volcano? Probably not the best idea. Exploring a dormant volcano haunted by an evil Mayan god? Even worse. Zane, Brooks, and Rosie are in for an adventure, you'll never forget.
Small Spaces, Katherine Arden
"After suffering a tragic loss, eleven-year-old Ollie only finds solace in books. So when she happens upon a crazed woman at the river threatening to throw a book into the water, Ollie doesn't think–she just acts, stealing the book and running away. As she begins to read the slender volume, Ollie discovers a chilling story about a girl named Beth, the two brothers who both loved her, and a peculiar deal made with "the smiling man," a sinister specter who grants your most tightly held wish, but only for the ultimate price.
Ollie is captivated by the tale until her school trip the next day to Smoke Hollow, a local farm with a haunting history all its own. There she stumbles upon the graves of the very people she's been reading about. Could it be the story about the smiling man is true? Ollie doesn't have too long to think about the answer to that. On the way home, the school bus breaks down, sending their teacher back to the farm for help. But the strange bus driver has some advice for the kids left behind in his care: "Best get moving. At nightfall, they'll come for the rest of you." Nightfall is, indeed, fast descending when Ollie's previously broken digital wristwatch, a keepsake reminder of better times, begins a startling countdown and delivers a terrifying message: RUN.
Only Ollie and two of her classmates heed the bus driver's warning. As the trio head out into the woods–bordered by a field of scarecrows that seem to be watching them–the bus driver has just one final piece of advice for Ollie and her friends: "Avoid large places. Keep to small." " – Goodreads
In this book, the ghost stories that intrigue and frighten you come to life. Ollie and her classmates will encounter the history of her stolen book and even the smiling man on their long walk to safety.
The Impossible Girl, Lydia Kang
"Manhattan, 1850. Born out of wedlock to a wealthy socialite and a nameless immigrant, Cora Lee can mingle with the rich just as easily as she can slip unnoticed into the slums and graveyards of the city. As the only female resurrectionist in New York, she's carved out a niche procuring bodies afflicted with the strangest of anomalies. Anatomists will pay exorbitant sums for such specimens—dissecting and displaying them for the eager public.
Cora's specialty is not only profitable, it's a means to keep a finger on the pulse of those searching for her. She's the girl born with two hearts—a legend among grave robbers and anatomists—sought after as an endangered prize.
Now, as a series of murders unfolds closer and closer to Cora, she can no longer trust those she holds dear, including the young medical student she's fallen for. Because someone has no intention of waiting for Cora to die a natural death."
If you're looking for a thrilling high-stakes adventure, you're going to want to follow Cora as she navigates the dangerous world of Manhattan's anomalies. This book will take you on an adventure to run from the twisted industry that made her rich.
The Deepest Roots, Miranda Asebedo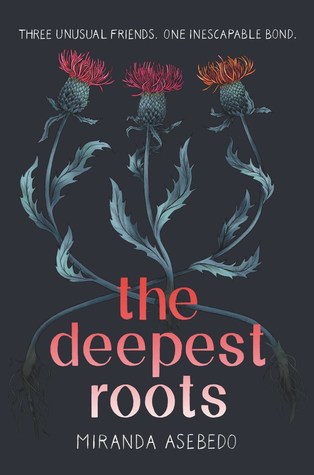 "Cottonwood Hollow, Kansas, is a strange place. For the past century, every girl has been born with a special talent, like the ability to Fix any object, Heal any wound, or Find what is missing.
Best friends Rome, Lux, and Mercy all have similar talents, but to them, their abilities often feel like a curse. Rome may be able to Fix anything she touches, but that won't help her mom pay rent or make it any easier to confide in Lux and Mercy about what's going on at home. And Rome isn't the only one. Lux has been hiding bigger, more dangerous secrets.
As Rome struggles to keep her friendships close, she discovers the truth about life in Cottonwood Hollow—that friends are stronger than curses, that trust is worth the risk, and sometimes, what you've been looking for has been under your feet the whole time." – Goodreads
This book will take you on a trip to a strange town where special talents aren't as cool as they seem, and curses are more common than you'd think. You want to miss their journey to discover what's really going on in Cottonwood Hollow.
Unbroken: 13 Stories Starring Disabled Teens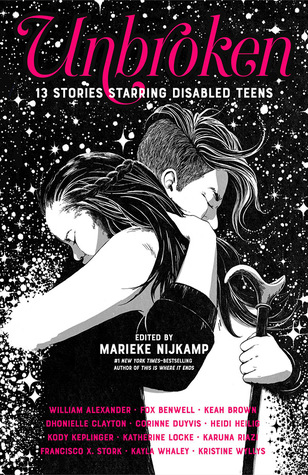 "A YA Anthology of short stories featuring disabled teens, written by #OwnVoices disabled authors. The stories reflect a range of genres and disabilities; contributors include bestselling authors Kody Keplinger and Francisco X. Stork, as well as newcomers Fox Benwell, Keah Brown, and more." – Goodreads
Another must-read anthology, Unbroken gives a powerful glimpse into the lives of disabled teens written by authors who face some of the same disabilities as their characters.