If you're looking for inspiration for your next big adventure, taking a trip to somewhere farther than a new state or even a country on the other side of the world will give you that extra boost of "anything is possible" that you need to dive headfirst into whatever life throws at you. These sci-fi must-reads are high-stakes trips through the galaxies that you won't be able to put down.
The Pioneer, Bridget Tyler
"When Jo steps onto Tau Ceti E, it should be the happiest moment of her life. After all, she's been training for as long as she can remember to be a cadet pilot in the International Space Agency. She's dreamed of the day she and her family would leave Earth forever and begin life as pioneers on a new planet.
But now she can't stop thinking of everything that has gone wrong on their mission: the terrible accident that nearly destroyed their craft, that set their voyage back years, that killed her brother, that left her unable to fly…
As Jo struggles to live with her grief and figure out who she's going to be now, she falls in love with her new world. It isn't hard. Jo's team is camped out by a pristine, tumbling river at the base of a mountain range that looks like huge prisms buried in the prairie. The soring crystal peaks transform every sunset into rainbows full of colors human eyes have never seen before. And that's just the beginning. Tau offers Jo and her family a lifetime of beauty and adventure.
Jo throws herself into helping her team, lead by her commander mother, establish their community on this amazing new world. But just when she starts to feel like her old self again, she uncovers a devastating secret her mother has been keeping from her people. A secret that could destroy her family's pioneering dreams…if they survive that long.
With the fate of the pioneers in her hands, Jo must decide how far she's willing to go to expose the truth — before the truth destroys them all." – Goodreads
Honor Among Thieves, Rachel Caine and Ann Aguirre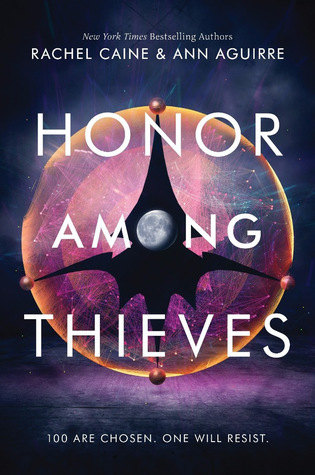 "Petty criminal Zara Cole has a painful past that's made her stronger than most, which is why she chose life in New Detroit instead of moving with her family to Mars. In her eyes, living inside a dome isn't much better than a prison cell.
Still, when Zara commits a crime that has her running scared, jail might be exactly where she's headed. Instead, Zara is recruited into the Honors, an elite team of humans selected by the Leviathan—a race of sentient alien ships—to explore the outer reaches of the universe as their passengers.
Zara seizes the chance to flee Earth's dangers, but when she meets Nadim, the alien ship she's assigned, Zara starts to feel at home for the first time. But nothing could have prepared her for the dark, ominous truths that lurk behind the alluring glitter of starlight." – Goodreads
The Last 8, Laura Pohl
"Clover Martinez has always been a survivor, which is the only reason she isn't among the dead when aliens invade and destroy Earth as she knows it.
When Clover hears an inexplicable radio message, she's shocked to learn there are other survivors—and that they're all at the former Area 51. When she arrives, she's greeted by a band of misfits who call themselves The Last Teenagers on Earth.
Only they aren't the ragtag group of heroes Clover was expecting. The group seems more interested in hiding than fighting back, and Clover starts to wonder if she was better off alone. But then she finds a hidden spaceship, and she doesn't know what to believe…or who to trust." – Goodreads
Off Planet, Aileen Erin
"In an all-too-plausible future where corporate conglomerates have left the world's governments in shambles, anyone with means has left the polluted Earth for the promise of a better life on a SpaceTech owned colony among the stars.
Maité Martinez is the daughter of an Earther Latina and a powerful Aunare man, an alien race that SpaceTech sees as a threat to their dominion. When tensions turn violent, Maité finds herself trapped on Earth and forced into hiding.
For over ten years, Maité has stayed hidden, but every minute Maité stays on Earth is one closer to getting caught.
She's lived on the streets. Gone hungry. And found a way to fight through it all. But one night, while waitressing in a greasy diner, a customer gets handsy with her. She reacts without thinking.
Covered in blood, Maité runs, but it's not long before SpaceTech finds her…
Arrested and forced into dangerous work detail on a volcano planet, Maité waits for SpaceTech to make their move against the Aunare. She knows that if she can't somehow find a way to stop them, there will be an interstellar war big enough to end all life in the universe.
There's only one question: Can Maité prevent the total annihilation of humanity without getting herself killed in the process?" – Goodreads
When the Sky Fell On Splendor, Emily Henry
"Almost everyone in the small town of Splendor, Ohio, was affected when the local steel mill exploded. If you weren't a casualty of the accident yourself, chances are a loved one was. That's the case for seventeen-year-old Franny, who, five years after the explosion, still has to stand by and do nothing as her brother lies in a coma.
In the wake of the tragedy, Franny found solace in a group of friends whose experiences mirrored her own. The group calls themselves The Ordinary, and they spend their free time investigating local ghost stories and legends, filming their exploits for their small following of YouTube fans. It's silly, it's fun, and it keeps them from dwelling on the sadness that surrounds them.
Until one evening, when the strange and dangerous thing they film isn't fiction–it's a bright light, something massive hurdling toward them from the sky. And when it crashes and the teens go to investigate…everything changes." – Goodreads