With many theater doors remaining shut well into 2021, many productions of The Nutcracker have been cancelled or postponed. That doesn't mean you have to stick to film adaptations or play soundtracks in your living room and dance out the production yourself (though you totally should). Many of our favorite ballet companies have spent 2020 adapting to all of the challenges that come with virtual theater, just in time to bring this classic to your screen this holiday season.
The Washington Ballet
The Washington Ballet has been carefully crafting a virtual Nutcracker experience that will include behind-the-scenes content, interviews, special performances, and more from the talented dancers in their company. Did you know TWB since 1961? It's no wonder they're pulling out all the stops for virtual tea parties and other Nutcracker-themed fun. They will be airing a short seven-minute film, "Clara's Christmas Eve Dream," with narration in English and Spanish on Marquee TV in early to mid-December, and their "The Nutcracker Tea Party at Home" will be available on YouTube starting 3:00PM ET on December 6. 
Boston Ballet
Boston Ballet partnered with NBC10 Boston to bring Artistic Director Mikko Nissinen's The Nutcracker to you! The one hour broadcast of the classic holiday ballet will air in English from November 28 and 29, December 12 and 25 at 7PM ET, and in Spanish on Telemundo on December 5 at 11AM ET and December 25 at 5PM ET.
Los Angeles Ballet
The Los Angeles Ballet will also be hosting a tea party event since they postponed their annual production of The Nutcracker until next year. "Clara's Nutcracker Tea Party" is a virtual event and fundraiser (proceeds will support the ballet) taking place on December 20. Tickets for the event include a box of surprises to open during the event, dances, and more.
Pacific Northwest Ballet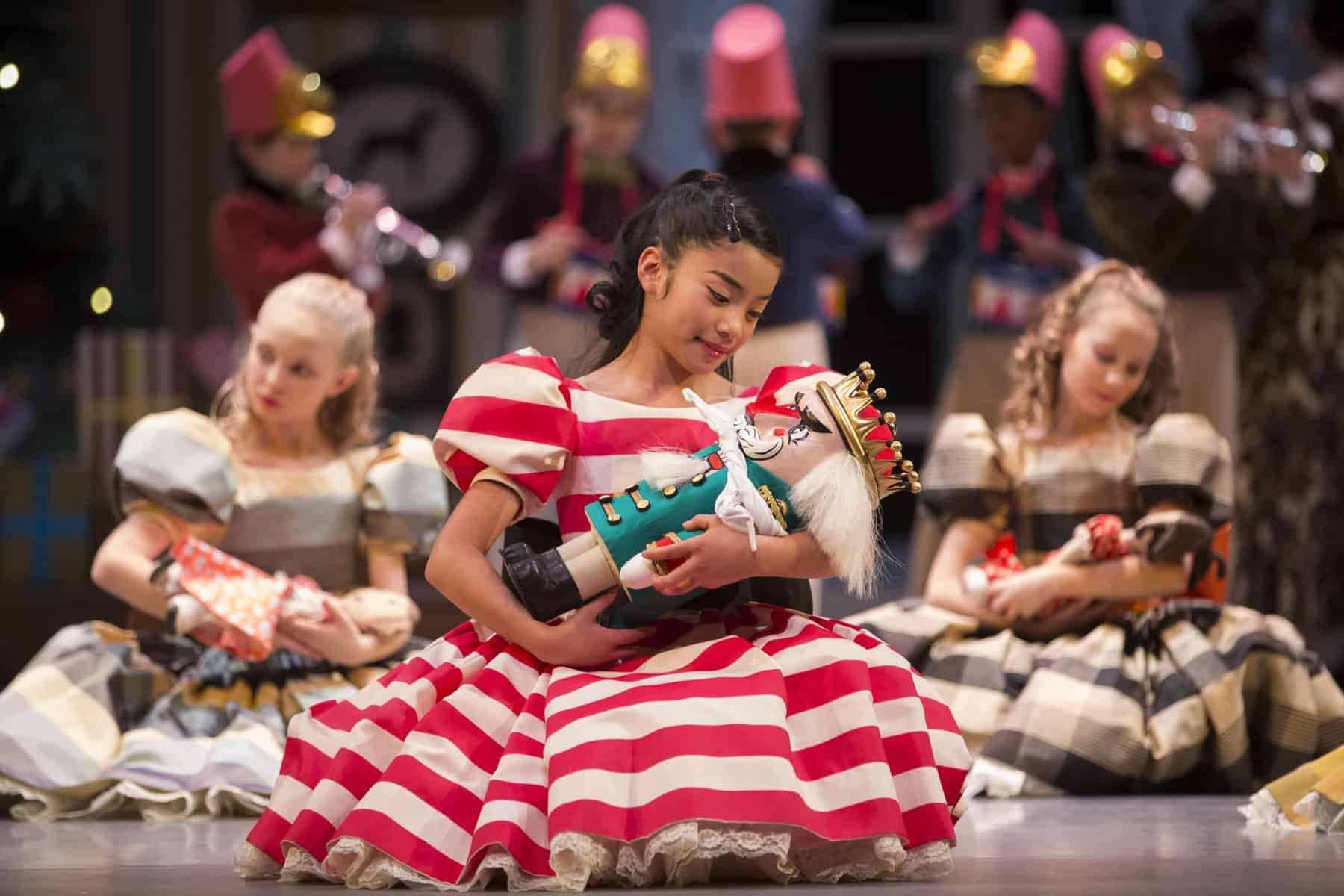 An archival performance of George Balanchine's The Nutcracker is being streamed by the Pacific Northwest Ballet in December. Streaming starts on December 18 for all ticketholders, but digital performance plus ticketholders will be able to start watching on December 11 and get access to bonus content like costume sketches and behind-the-scenes interviews with castmembers.
Atlanta Ballet
The Atlanta Ballet is taking The Nutcracker to a whole new level with three different experiences this year. Starting November 26, Atlanta Ballet will be doing thirty days of free Nutcracker content on Facebook and Instagram including dancers takeovers, character storytimes, behind-the-scenes information, and even choreography classes from the ballet. The Nutcracker will also be available to watch on demand from mid-November until December 27. December 2 through 6, they will also be hosting a pop-up drive-in movie experience in the Cobb Energy Performing Arts Centre parking lot with themed concessions and souvenirs.
Nashville Ballet
The Nashville Ballet is broadcasting a free televised premiere of their Nutcracker on December 18 at 7:00PM CST on CBS NewsChannel 5 and again at 7:00PM CST on December 24 and 3:00PM December 25. They filmed the ballet this year in their 12,000-square-foot warehouse to create something special for their TV special.
Ballet West
Ballet West is bringing The Nutcracker to you via KSL 5 TV (and the station's app). While they can't perform live this year, instead of breaking their sixty-five-year tradition of Nutcracker performances, their company has decided to go digital, airing a recorded version of the production December 24 and 25 and January 1 at 5:30PM (MST). "While we are not able to perform Mr. C's Nutcracker live this year," Artistic Director Adam Sklute said. "We will continue its historical unbroken run by offering our community this beautiful broadcast created in collaboration with BYUtv."