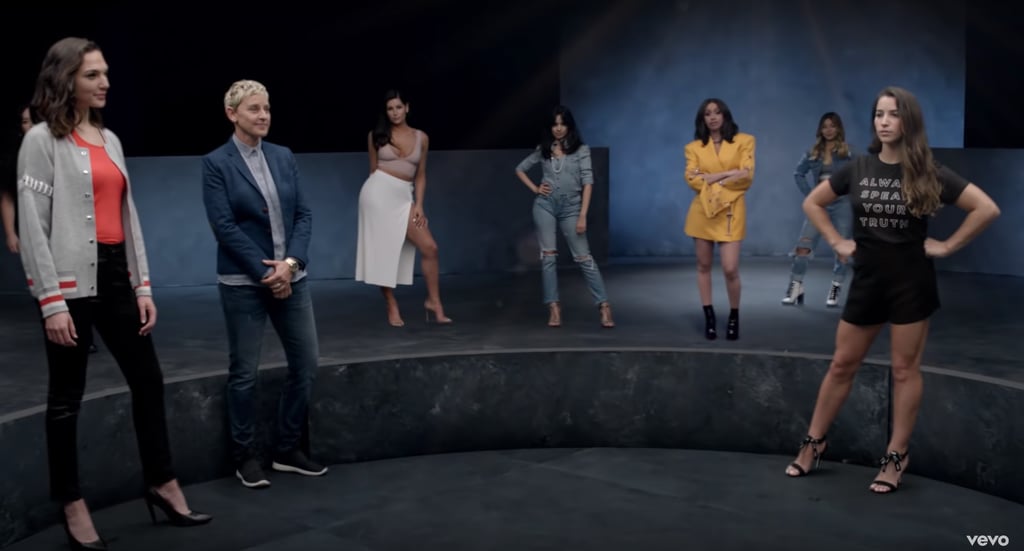 Maroon 5's new song "Girls Like You" is a song about a man who doesn't deserve the company of the amazing woman he is with, but the music video carries a different message entirely. Filled with present-day icons like Camila Cabello, Lilly Singh, and Millie Bobby Brown, who draw attention away from Maroon 5 lead singer Adam Levine as the camera rotates around him, the video is a vision of girl power.
The full line up of celebrities from athletes to actresses, activists, and internet personalities includes, Camila Cabello, Phoebe Robinson, Aly Raisman, Sarah Silverman, Gal Gadot, Lilly Singh, Amani Al-Khatahtbeh, Trace Lysette, Tiffany Haddish, Angy Rivera, Franchesca Ramsey, Millie Bobby Brown, Ellen Degeneres, Jennifer Lopez, Chloe Kim, Alex Morgan, Mary J. Blige, Beanie Feldstein, Jackie Fielder, Danica Patrick, Ilhan Omar, Elizabeth Banks, Ashley Graham, and Rita Ora. Cardi B who is a featured artist on the track also appears in the video. Last to appear in the video is Adam Levine's wife Behati Prinsloo holding their daughter Dusty Rose who's presence concludes the video in an emotional scene.
All of these women are doing amazing things in the world on and off screen, and seeing all 26 of them together in one video is a dream come true. If you need an extra dose of girl power in your day, this video is perfect.