Summer vacation is well underway. Whether you are going to the beach or flying to a new place, these five books will be the perfect companions for any summer adventure.
Your Destination is on the Left, Lauren Spieller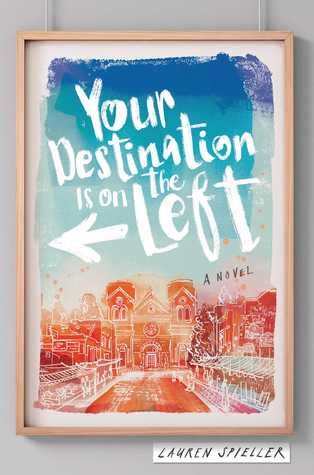 "Dessa Rhodes is a modern-day nomad. Her family travels in an RV, their lives defined by state lines, exit signs, and the small communal caravan they call home. Among them is Cyrus, her best friend and long-time crush, whom she knows she can never be with. When your families are perpetually linked, it's too dangerous to take a risk on romance.
Instead, Dessa looks to the future. She wants to be a real artist and going to art school is her ticket to success and a new life. There's just one problem: she hasn't been accepted…anywhere. Suddenly her future is wide open, and it looks like she's going to be stuck traveling forever.
Then an unexpected opportunity presents itself: an internship working with a local artist in Santa Fe. Dessa struggles to prove to her boss—and herself—that she belongs there, but just as she finally hits her stride, her family suffers an unexpected blow. Faced with losing everything that she has worked for, Dessa has a difficult decision to make. Will she say goodbye to her nomadic lifestyle and the boy she loves? Or will she choose to never stop moving?" – Goodreads
We all have our bouts of wanderlust, but Dessa is more obsessed with something stagnant. What would you do if your entire life was traveling?
Summer of Salt, Katrina Leno
"Georgina Fernweh waits with growing impatience for the tingle of magic in her fingers—magic that has been passed down through every woman in her family. Her twin sister, Mary, already shows an ability to defy gravity. But with their eighteenth birthday looming at the end of this summer, Georgina fears her gift will never come. No one on the island of By-the-Sea would ever call the Fernwehs what they really are, but if you need the odd bit of help—say, a sleeping aid concocted by moonlight—they are the ones to ask. No one questions the weather, as moody and erratic as a summer storm. No one questions the (allegedly) three-hundred-year-old bird who comes to roost on the island every year.
When tragedy strikes, what made the Fernweh women special suddenly casts them in suspicion. Over the course of her last summer on the island—a summer of storms, of love, of salt—Georgina will learn the truth about magic, in all its many forms." – Goodreads
This book will take you to an island where magic runs rampant, and the biggest problems happen when it is gone. Follow Georgina on her journey to find her magic and discover the ancient secrets of her magical home.
The Fragile Ordinary, Samantha Young
"People expect extraordinary things from a girl named Comet. That she'll be effortlessly cool and light up a room the way a comet blazes across the sky. But from the shyness that makes her book-character friends more appealing than real people to the parents whose indifference hurts more than an open wound, Comet has never wanted to be the center of attention. She can't wait to graduate from her high school in Edinburgh, Scotland, where the only place she ever feels truly herself is on her anonymous poetry blog. But surely that will change once she leaves to attend university somewhere far, far away.
When new student Tobias King blazes in from America and shakes up the school, Comet thinks she's got the bad boy figured out. Until they're thrown together for a class assignment and begin to form an unlikely connection. Everything shifts in Comet's ordinary world. Tobias has a dark past and runs with a tough crowd—and none of them are happy about his interest in Comet. Targeted by bullies and thrown into the spotlight, Comet and Tobias can go their separate ways…or take a risk on something extraordinary." – Goodreads
There's more to Comet than her unique name. This book is the perfect companion for a summer of self-discovery.
I Was Born for This, Alice Oseman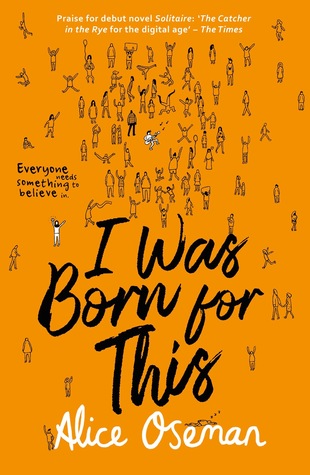 "For Angel Rahimi, life is only about one thing: The Ark – a pop-rock trio of teenage boys who are currently taking the world by storm. Being part of The Ark's fandom has given her everything – her friendships, her dreams, her place in the world.
Jimmy Kaga-Ricci owes everything to The Ark too. He's their frontman – and playing in a band is all he's ever dreamed of doing. It's just a shame that recently everything in his life seems to have turned into a bit of a nightmare.
Because that's the problem with dreaming – eventually, inevitably, real life arrives with a wake-up call. And when Angel and Jimmy are unexpectedly thrust together, they will discover just how strange and surprising facing up to reality can be." – Goodreads
Being a super fan means a lot of obsessing over every detail of your idol's lives, but what happens when you meet them in person and all of those details fall apart? You might want to reconsider how you feel about meeting your favorite celebs in person after following Angel on her adventure to meet The Ark's lead singer (or maybe not).
The History of Jane Doe, Michael Belanger
"History buff Ray knows everything about the peculiar legends and lore of his rural Connecticut hometown. Burgerville's past is riddled with green cow sightings and human groundhogs, but the most interesting thing about the present is the new girl–we'll call her Jane Doe.
Inscrutable, cool, and above all mysterious, Jane seems as determined to hide her past as Ray is to uncover it. As fascination turns to friendship and then to something more, Ray is certain he knows Jane's darkest, most painful secrets and Jane herself–from past to present. But when the unthinkable happens, Ray is forced to acknowledge that perhaps history can only tell us so much." – Goodreads
Ray wants to know about local legends, but he never expected that one of those legends would be one of his classmates. If your summer vacation is lacking a little mystery. This is the perfect novel to pack in your carry on!