Bridge of Clay, Markus Zusak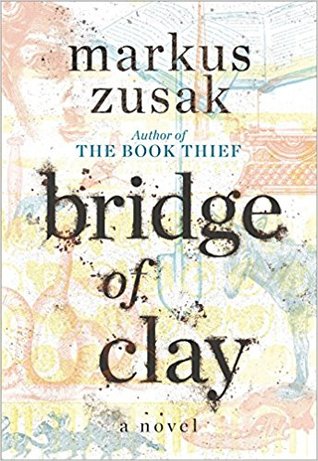 "The breathtaking story of five brothers who bring each other up in a world run by their own rules. As the Dunbar boys love and fight and learn to reckon with the adult world, they discover the moving secret behind their father's disappearance.
At the center of the Dunbar family is Clay, a boy who will build a bridge—for his family, for his past, for greatness, for his sins, for a miracle.
The question is, how far is Clay willing to go? And how much can he overcome?" – Goodreads
If The Book Theif is in your top 10 favorite books, you'll definitely want to add this novel to your fall reading list.
Dear Evan Hansen, Val Emmich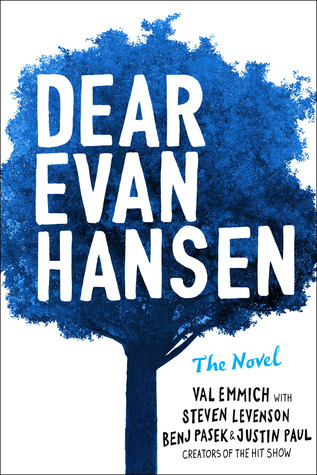 "When a letter that was never meant to be seen by anyone draws high school senior Evan Hansen into a family's grief over the loss of their son, he is given the chance of a lifetime: to belong. He just has to stick to a lie he never meant to tell, that the notoriously troubled Connor Murphy was his secret best friend.
Suddenly, Evan isn't invisible anymore–even to the girl of his dreams. And Connor Murphy's parents, with their beautiful home on the other side of town, have taken him in like he was their own, desperate to know more about their enigmatic son from his closest friend. As Evan gets pulled deeper into their swirl of anger, regret, and confusion, he knows that what he's doing can't be right, but if he's helping people, how wrong can it be?
No longer tangled in his once-incapacitating anxiety, this new Evan has a purpose. And a website. He's confident. He's a viral phenomenon. Every day is amazing. Until everything is in danger of unraveling and he comes face to face with his greatest obstacle: himself." – Goodreads
If you're as big of a fan as the hit Broadway musical that this book is based on as we are, you won't be able to put this book down.
When We Caught Fire, Anna Godberson
"It's 1871 and Emmeline Carter is poised to take Chicago's high society by storm. Between her father's sudden rise to wealth, and her recent engagement to Chicago's most eligible bachelor, Emmeline has it all. But she can't stop thinking about the life she left behind, including her childhood sweetheart, Anders Magnuson. Fiona Byrne, Emmeline's childhood best friend, is delighted by her friend's sudden rise to prominence, especially since it means Fiona is free to pursue Anders herself. But when Emmeline risks everything for one final fling with Anders, Fiona feels completely betrayed.
As the summer turns to fall, the city is at a tipping point: friendships are tested, hearts are broken, and the tiniest spark might set everything ablaze. Sweeping, soapy, and romantic, this is a story about an epic love triangle—one that will literally set the city ablaze, and change the lives of three childhood friends forever. " – Goodreads
Who needs summer adventures when you can have this fall one right at your fingertips?
Where She Fell, Kaitlin Ward
"Eliza knows the legends about the swamp near her house—that people have fallen into sinkholes, never to be seen again, maybe even falling to the center of the earth. As an aspiring geologist, she knows the last part is impossible. But when her best friends drag her onto the uneven ground anyway, Eliza knows to be worried.
And when the earth opens under her feet, there isn't even time to say I told you so.
As she scrambles through one cave, which leads to another, and another, Eliza finds herself in an impossible world—where a small group of people survive underground, running from vicious creatures, eating giant bugs, and creating their own subterranean society. Eliza is grateful to be alive, but this isn't home. Is she willing to risk everything to get back to the surface?" – Goodreads
This might not be the dystopia you were expecting to find this month, but it's a whirlwind of an adventure nonetheless.
The Geography of Lost Things, Jessica Brody
"After Ali's father passes away, he leaves his one and only prized possession—a 1968 Firebird convertible—to his daughter. But Ali doesn't plan on keeping it. Not when it reminds her too much of all her father's unfulfilled promises. So when she finds a buyer three hundred miles up the Pacific coast willing to pay enough money for the car to save her childhood home, Ali can't wait to get going. Except Ali has no idea how to drive a stick shift. But guess who does?
Ali's ex-boyfriend, Nico. And Nico has other plans.
He persuades Ali that instead of selling the car, they should "trade up" the items they collect on their trip to eventually reach the monetary amount Ali needs. Agreeing with Nico's crazy plan, Ali sets off on a unique adventure that is unlike anything she ever could have expected.
And it's through Ali's travels, through the strangers she meets and the things that they value—and why they value them—that Ali eventually comes to understand her father and how his life may not have been as easy and carefree as she previously thought. Because just like the seemingly insignificant objects Ali collects, not everything is exactly as it appears. " – Goodreads
The colder time of year isn't usually when you plan a road trip, but you can certainly follow Ali on hers.