The music video for Ariana Grande's pop-ballad "No Tears Left to Cry" is finally here, and we could not have prepared ourselves for this haunting and eery response to the tragedy that occurred at her Manchester concert last may.
Both the song and the video have a dreamy quality to them, and you will probably have to fight back a tear or two as you watch Ariana defy the laws of physics as she walks on walls and ceilings. The music videos startling images are not without purpose, though. It is clear that Arianna is trying to share her feelings about how she felt when the Manchester bombing turned her and the entire world upside down.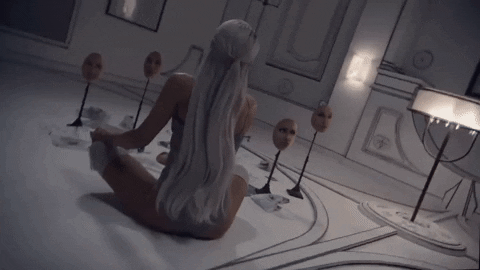 The most shocking image in the video is a scene where Ariana sits on a floor surrounded by masks of her own face. As the camera pans around she takes off. her. own. face. We're sure this is a visual representation of the many ways Ariana has to portray herself as a star, a role model, and a public persona, but all we can think about is her featureless face.
Despite being a dramatic and mellow song with a vocal range that could only be described as gospel, "No Tears Left to Cry" presents a fearless attitude that shows Ariana will not be shaken by tragedy. She will only get stronger in the face of it.