All eyes were on American Actress Meghan Markle and His Royal Highness Prince Harry this weekend as their modern day fairytale became a reality this past Saturday at St. George's Castle in Windsor. With Royal Wedding coverage breaking the internet, it's hard to know where to look for prime wedding details! We have put together the Ultimate Royal Wedding Coverage Guide so you can live vicariously through our new American princess and her royal hubby.
The most important (and probably most talked about) detail was Meghan Markle's gorgeous Givenchy Wedding Dress. The now Duchess of Sussex broke hearts and watered eyes with her elegant and timeless wedding look. Seventeen has all the dress details you are dying to know from the length of her veil to all the designer details we've been obsessing over for days.
We aren't the only ones hungry for details about by Meghan's statement look. Soon-to-be brides all over the world are hoping to take a little royal inspiration for their big day. Looking for inspiration? People reveals all the secrets around Meghan's bridal look. For queen's of DIY, Good Morning America also sat down with bridal expert Randy Fenoli to get his tips on recreating this look yourself. 
It warmed hearts around the world to see that Princess Diana was not forgotten during her son's big day. Seventeen explores how Meghan kept her late mother-in-law's memory close during the wedding.
The big moment for any wedding is when the choir starts to sing and the bride begins her walk down the aisle. Today perfectly captured the heart-stopping moment of Meghan making her way through St. George's Chapel in their live video coverage of the weekend's big event. All eyes were on the beautiful bride, but you can't help but look at the groom's reaction to seeing his soon-to-be wife in her bridal best. Buzzfeed captured this first look from all angles for us to analyze and obsess over.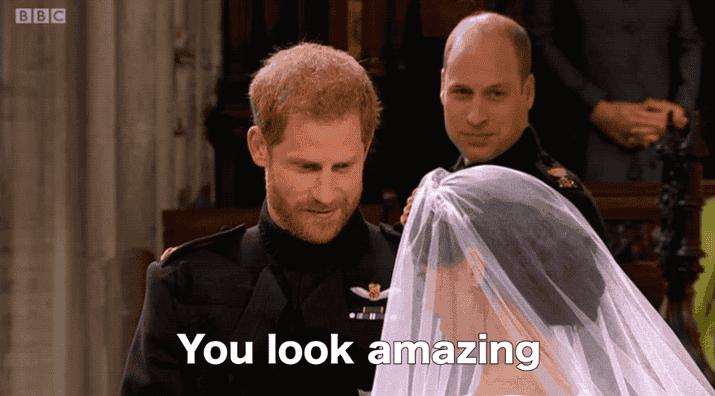 Like everyone else, we wiped away tears when the bride walked in, but the vows had us dragging out the tissues. Today's video coverage of Meghan and Harry exchanging vows makes you feel like you were sitting in the Chapel. Meghan entered the Chapel with four page boys and six bridesmaids escorting her and her 16-foot veil, down the aisle. CNN figured out who these lucky children (many of them princes and princesses) are and their relation to the royal couple. 
 Harry and Meghan's first kiss as the Dutch and Duchess of Sussex gave us all the feels. Time captured the couple as they gathered in front of Windsor Castle to share their first smooch while the rest of us were busy obsessing about it on Twitter.
If you wanted to see exactly how fabulous the newlyweds' exit was, we've got you covered. The couple rode to their private reception at the Frogmore House in style. Meghan and Harry hopped in a 1968 silver blue Jaguar and headed out of the Windsor Castle grounds in the NBC News video above. The car was only just the beginning, though. Meghan and Harry's wedding reception was one for the books. Celebrating well until the early hours of the next morning, the reception was the place to be for all of the royals' A-list guests. The most important moment of the night was the first dance to Whitney Houston's 1987 hit "I Wanna Dance With Somebody".
St. George's Chapel looked right out of a fairytale with a gorgeous array of flowers picked from a private garden at Kensington Palace. Thankfully, these flowers weren't wasted once the festivities had ended. The royal flowers were donated to a hospice much to the delight of its residents while, following royal tradition, Meghan's bouquet rests on the grave of the Unknown Warrior in Westminster Abbey. 
There is no better way to relive moments from this royal event than with looking through 100s of photos. USA Today has carefully gathered all the best photos from Meghan and Harry's special day. We're sure these photos will be in wedding binders everywhere before we know it. If photos aren't enough for all you die-hard Royal Wedding watchers, Entertainment Tonight put together a full day overview with minute by minute coverage of all the wedding festivities. If it seems like your wedding invitation got lost in the mail. You can still read about what it felt like to be apart of this royal event. People talked with some lucky wedding goers on what it was like witnessing the big day.